How it works
High-quality eyelash growth essence and eyebrow enhancement formula, nourishes and moisturizes eyelashes, promotes fuller eyelashes, a beauty expert around you
Key ingredients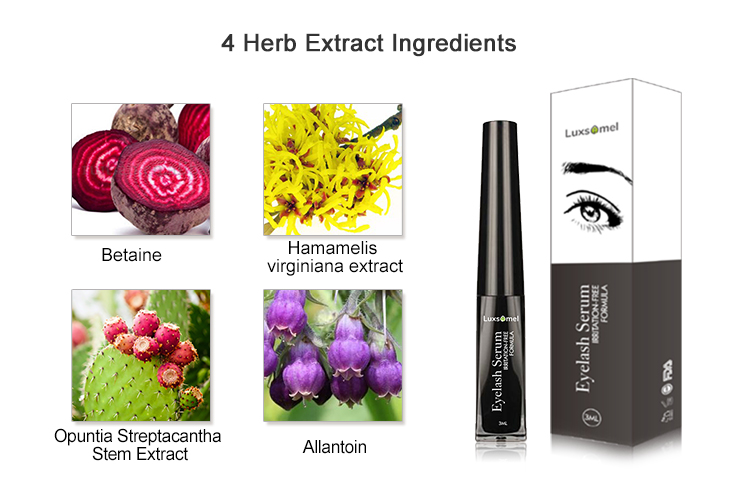 Betaine is a mild amphoteric surfactant that is non-irritating and non-allergic to the skin and eye mucosa. It can significantly reduce the irritating effects of surfactants on the eyes.
Hamamelis Virginiana Extract contains a special softness factor. It can soothe restless skin and maintain metabolic balance. It has soothing, astringent, antibacterial, and anti-wrinkle effects, which can effectively help skin and eyelashes regenerate at night.

Opuntia is rich in phytonutrients that enhance skin immunity. Opuntia Streptacantha Stem Extract promotes cell regeneration and repair and promotes eyelash growth.

Allantoin has the physiological function of promoting cell growth and accelerating wound healing. It is a good active ingredient and is beneficial to the growth of eyelashes.
All ingredients
| | |
| --- | --- |
| Product Name | Eyelash Serum |
| Main Ingredient | Water, Propylene Glycol, Betaine, Hamamelis Virginiana Extract, Opuntia Streptacantha Stem Extract, Myristoyl Pentapeptide-4, Allantoin, Phenoxyethanol. |
| Function | Make eyelash longer, thicker, fuller effectively |
| Specification | 3ml / bottle |
| Usage | Once a day, use in the evening |
| Advantage | Natural, Safe, No side effect |
Results
Continuous use every day, after 4 weeks:*
• 98% report eyelash growth enhancing
• 97% report lash boosting
• 95% report reduces lash loss during makeup removal
• 96% report volumizing eyebrow
*Data comes from the internal test report of 50 Seek Pretty women aged 18-55 after 28 days of continuous use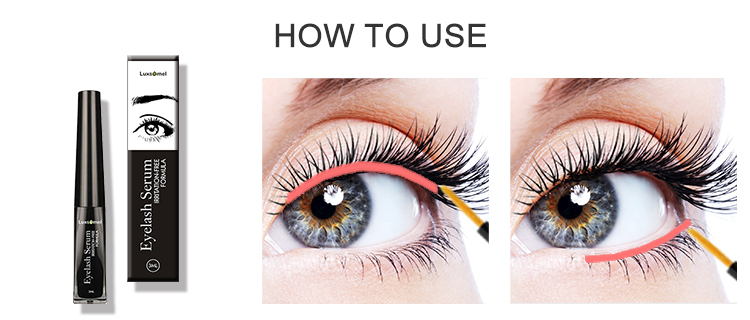 How to apply
1. Make sure your face is clean from make-up and creams, and your eyes and lashes are dry.
2. Dip the brush once, remove extra liquid. Apply a thin layer of the product on the root line of the eyelash serum.
3. Let it dry for 90 seconds before you apply other products, or go to bed.
4. Twice a day.