Tea tree oil is good for acne
Dec 03,2021 | HISEEK PRETTY
Tea tree essential oil is extracted from the leaves of the Australian tea tree. During World War II, essential oil processors and raw material suppliers were exempt from military service until they had enough tea tree oil in stock! Every soldier and sailor was rationed with some essential oils and carried them with them to treat tropical infections and inflamed wounds.
Nowadays, people use tea tree oil in all aspects, including keeping the skin healthy. Do these include treating acne?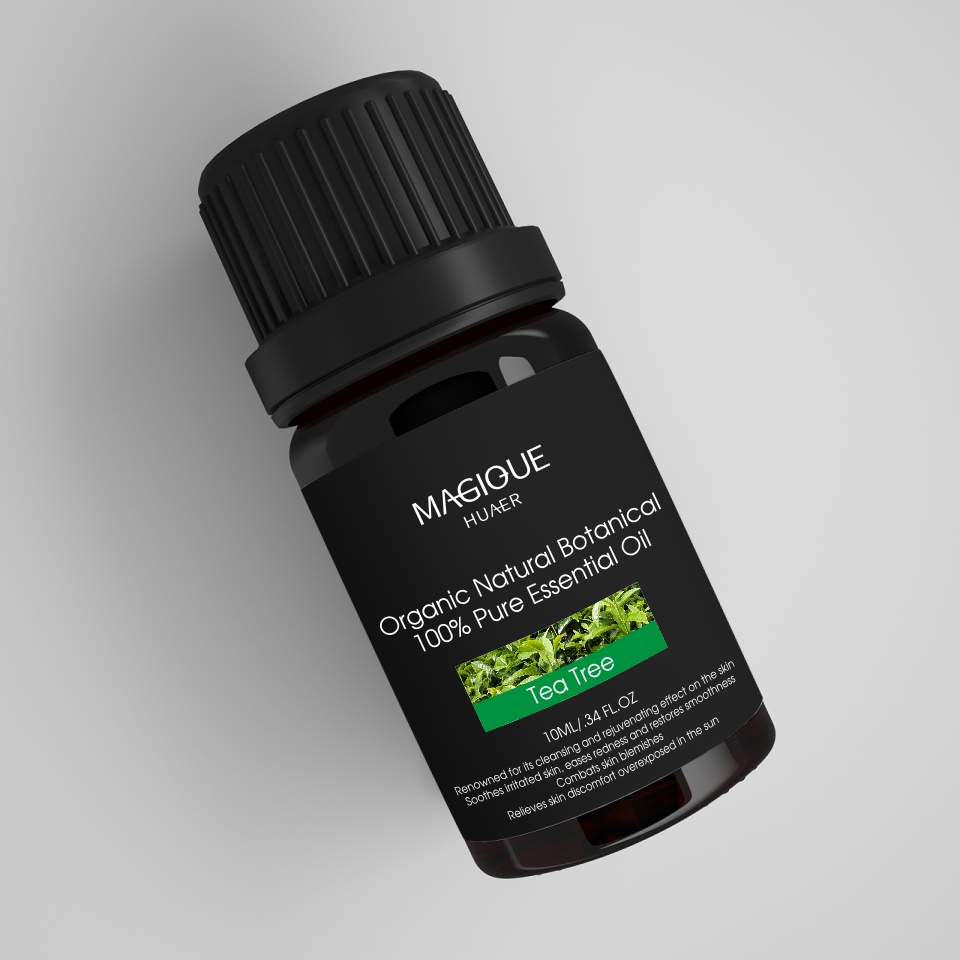 Let's take a look at how tea tree essential oil can help treat acne, the best way to use it, and precautions.
Does a dermatologist recommend tea tree oil for acne
Aborigines used tea tree leaves to treat wounds for a long time, poisonous snake bites can also be used as an antidote, and it was also used as an anti-inflammatory agent during the World War.
It was introduced to Europe around 1927, and its excellent antibacterial properties soon attracted attention. Australia, the United States, and France are all studying the anti-infective and anti-fungal efficacy of tea trees, especially for the treatment of various skin diseases.
A 2018 study found that the combination of tea tree oil, aloe vera, and propolis can also improve acne.
In general, research suggests that tea tree oil may help improve acne, rather than cure them.
How to use tea tree oil
1. Add 2~6 drops of tea tree essential oil to your daily moisturizing products and facial cleanser, which can treat acne symptoms well.
MM who is sensitive to tea tree oil, and MM who feels dry skin after using tea tree oil, can try to make some natural materials to dilute the tea tree oil to make acne ointment. E.g:
① Mix a few drops of tea tree oil with a few spoons of aloe vera gel and then apply directly to the acne you want to eliminate.
② If the skin is dry, or there are more red acne marks. You can mix tea tree oil with organic honey. Honey also contains antibacterial ingredients and accelerates the disappearance of red acne marks on the skin, and the moisturizing effect is also very significant.
③ The most powerful effect of tea tree oil for anti-acne is that it can reduce inflammation and sterilization. Therefore, when the acne has serious pustules, or redness and inflammation, you can apply tea tree oil directly on the abscessed acne, and the others are intact. The skin does not need to be applied. In general, the redness, swelling, and acne will be "shrunk" after one to two days. It's just that tea tree oil is generally photosensitive, so it is generally used at night.

④ When using tea tree oil to treat acne, you don't need to drop too much essential oil. About a drop or so, because tea tree essential oil is of high purity, it is not suitable for excessive use. If you need to apply essential oils to a large area, you have to apply them after dilution. Use your fingers to massage the essential oils on the acne area so that they can fully penetrate into the skin in order to achieve its real useful effect. Especially for people with sensitive skin, it is best to use it after diluting.
How often should you use tea tree oil
For most acne treatments, you will want to use it every day to achieve the best results. This also includes tea essential oils.
Once you have done the patch test and know that it is safe to use on your face, you can apply skincare at a frequency of once in the morning and twice a day.
Safety Tips

Tea tree oil has antiseptic properties compared with benzoyl peroxide anti-acne ingredients, but the irritation of tea tree oil is much lower than that of benzoyl peroxide.
Tea tree oil is generally safe to use on the face, but it is not safe to swallow.
1. It is best to avoid using essential oils during pregnancy and for children.
2. For those with sensitive skin or physique, please conduct a sensitivity test before use.
3. Please use the recommended amount. Excessive use will cause adverse effects and even cause an excessive burden on the body.
4. Avoid using plastic, soluble or oil-painted surface containers. When diluting essential oils, use essential oil bottles, glass, stainless steel, or ceramics.
5. It is best not to take essential oils orally unless instructed by an aromatherapist or physician.
Where is tea tree essential oil
Tea tree essential oil is widely used and easy to find. Please make sure to buy it through regular channels.
If you want to buy tea tree oil for your skin, buy the purest one. Make sure that the label says 100% pure tea tree oil.
In which areas can you use tea tree oil
In addition to being good for acne, tea tree oil can also help treat: eczema, burns, sores, sunburn, ringworm, warts, ringworm, herpes, and Hong Kong feet
Summarize:
Expert research has found that tea tree essential oil uses its anti-bacterial and anti-inflammatory effects to effectively combat acne caused by Propionibacterium acnes. When the acne is in the early to middle stage of growth, there are more serious pustules or redness and inflammation. You can apply tea tree oil directly to the abscessed acne, and you don't need to apply it to other intact skin. In general, the redness, swelling, and acne will be "shrunk" after one to two days. It's just that tea tree oil is generally photosensitive, so it is generally used at night
Tea tree essential oil to remove acne, first of all, depends on the state of your acne. If you want to get rid of acne, you should choose tea tree oil, the effect will be better. But if you are at home, it is recommended that the single essential oil should be used in conjunction with the base oil
It may not be as fast and effective as benzoyl peroxide or salicylic acid in treating acne. If you are sensitive to the above ingredients, tea tree oil may be an over-the-counter option.
If you have severe acne or there is no improvement after treatment, you need prescription drugs to treat it. The dermatologist will help you find the best treatment based on your acne type
Back to Acne Skin Care.